The Louisville women's basketball team didn't win the ESPY for Best Upset despite the win being widely considered the biggest upset in the history of the sport. The Cards were a 26-point underdog in the game, 14 points more than the 12 Florida Gulf Coast - the ESPY winners - were getting from Georgetown.
Shoni Schimmel should have stormed the stage and gotten right in Andy Enfield's face...although it looked like his former players were thinking about doing the same thing.
Louisville and the 2013 Sugar Bowl was a hot topic of discussion during Florida's time at the podium earlier this week at SEC Media Days.
First up was Gator quarterback Jeff Driskel, who took the high road.
"We were prepared for the game. We didn't take them lightly. They just beat us. That's the end of the story there," Driskel said. "We got beat down. They really put it to us. Any time you're embarrassed, you kind of want to respond. We've had a whole offseason to think about it, and we haven't had a chance to show that's not us. So that's been in the back of our mind the whole offseason, and that's been a big motivational factor."

Driskel was especially impressed with U of L quarterback Teddy Bridgewater, who completed 20 of 32 passes for 266 yards and two touchdowns in that game and enters this season as a serious Heisman Trophy contender.

"He picked us apart," Driskel said. "He had a great game. We were in the same class coming out of high school, so I was with him in camps and stuff like that, but that was the first time I'd really seen him live, in a game atmosphere. He really impressed me, and I think he has a chance to have another good year."
The same can't be said for defensive end Dominique Easley, who reportedly told one group of media members that Florida "took a game off," before turning around and saying the exact opposite to another group.
"We didn't take a game off, they were just better than us," Easley said Tuesday afternoon. "They were just better. Any loss you take with you."
Easley also noted that the team is reminded of the game every single day.
SEC Media Days kicked off with the Florida Gators. They are a team that only lost two games last season. One of those was a Sugar Bowl loss to Louisville, and it left a bad taste in their mouth.

The Florida Gators do not want to forget what it felt like when they lost to Louisville by ten points in New Orleans.

"They have this big poster of the score right before you walk into the locker room," said Florida Defensive End Dominique Easley. "Every day we have to see it."
Pretty cool.
NFL.com previews the 2013 Louisville Cardinals from a pro prospective.
U of L's representatives enjoyed their time on the red carpet Wednesday night.
I'm reposting centre_card's entire comment from the Pitino wins ESPY thread because it demands it:
"JOHN...JOOOOOOHHHHHNNN!"

"Oh, look, it's Rick. What, Rick?"

"John, I heard you wrote a book. Congratulations."

"Well, Rick, that's great. Thanks. Heard you won an ESPY award. Congrats! Haven't done that yet."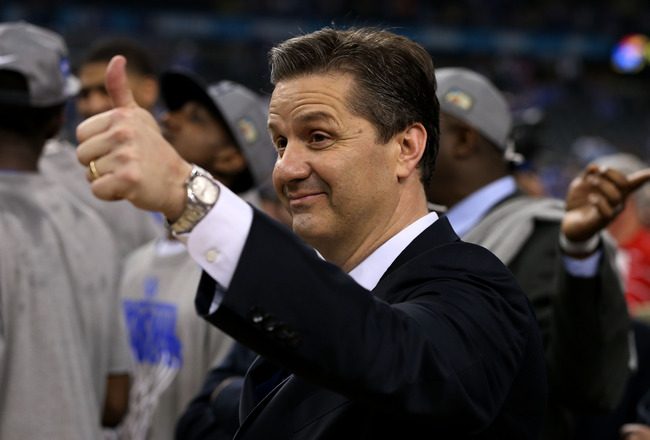 "Well, now that you mention it, there are a few other things you haven't done John..."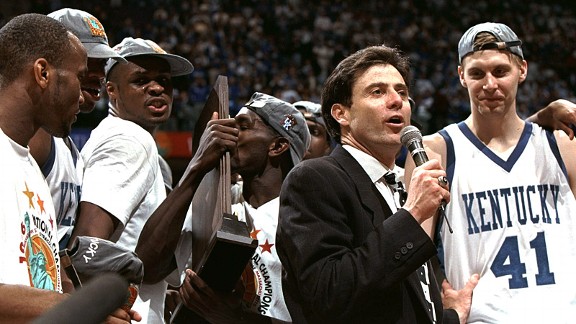 "...Well, Rick, you had some fun, I'll give you that."

"But, John, you know I learned a valuable lesson from your new book."

"REALLY? WOW, that's really nice of you Rick, what'd you learn?"

"Turns out you're right. It's the name on the back that counts."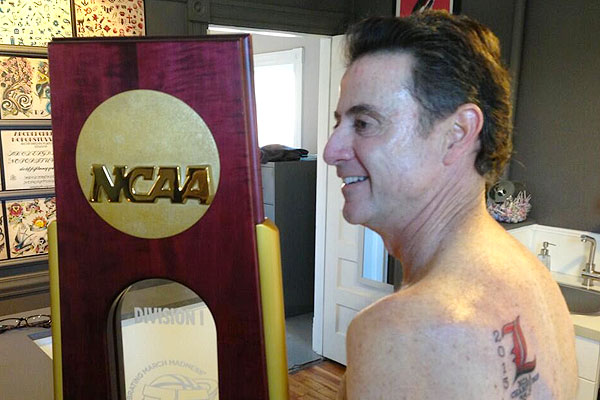 ...

Teddy is a Davey O'Brien Watch List member because Teddy.
Five-star wing Kelly Oubre out of Houston announced Wednesday that both Louisville and Kentucky are on his final list of eight chools. Joining the Cards and the Cats are Kansas, Florida, Georgetown, Oregon, Connecticut and UNLV.
If you're interested in supporting a good cause AND combining the best elements of raving and exercise, then head over to GlowGo.com and sign up for the July 27 5K race on the Waterfront. You can use the promotional code "JJglow" to save $5. Proceeds go to Susan G Komen and cancer research.
U of L basketball continues to pick up almost as much (figurative...I guess) hardware for its off-the-court efforts as it did during the actual 2012-13 season.
Three University of Louisville men's basketball upperclassmen student-athletes have been named to the 2012-13 National Association of Basketball Coaches (NABC) Honors Court, which recognizes college basketball student-athletes who have excelled academically.

Cardinal upperclassmen Peyton Siva, Stephan Van Treese and Mike Marra were among more than 700 student-athletes from 285 institutions which were honored. To qualify for inclusion in the NABC Honors Court, a student-athlete must be a junior or senior, have a cumulative 3.2 GPA or higher at the conclusion of the 2012-13 season and must have matriculated at least one year at their current institution.
Tom Lehman, my golf hero for as long as I can remember, is just two shots back after the first round of the British Open. If Lehman wins the only major he plays in at age 54, then my first-born WILL be named Twentythirteen Rutherford. That is an absolute promise.
So far Louisville fans have been far more generous than their Lexington brethren when it comes to supporting the Red v. Blue documentary.
You only have 18 days left to donate to the project.
The NFL Network has named Teddy Bridgewater as its No. 2 overall prospect for the 2014 NFL Draft.
U of L is one of just six BCS programs to earn the NABC Team Academic Excellence Award. The Cards posted a 3.41 team GPA for the fall semester, and a 3.18 in the spring.
USA Today has named Louisville Slugger Field as one of America's 20 best ballparks. The nation's top ballpark will be decided through an online vote next month.
You know who has the highest batting average in the history of Louisville Slugger Field? It might be the guy who typed the sentence you're reading (it is). If you're less than 1-for-1 with two walks for your career then you're already sh-t out of luck, Billy Hamilton. Future of the Reds, my ass.
House that Rutherford built.
This should be the new Blu-Ray cover for Mr. Smith Goes to Washington.
I'm pretty sure Capra would be on board.
This story about Kentucky players talking about feeling "disrespected" by Western Kentucky was originally tweeted by the C-J under the title "Kentucky players whining about wku." I thought it was brilliant.
Louisville/Kentucky not being the first game each and every season is beyond indefensible.
Saturday Blitz says Charlie Strong is the top coach in the AAC, and I stand in online agreement with them.
1. Charlie Strong, Louisville

Strong's winning personality and QB Teddy Bridgewater's sensational talent - teamed with a convincing Sugar Bowl victory over Florida - make it easy to forget that Louisville lost two games it had no business losing and was a close game going the other way away from playing in the Pinstripe Bowl. It's worth noting, just because Louisville should out-talent its competition to another BCS appearance this season. Strong has done an outstanding job turning around a program that slipped after Bobby Petrino left. Not only does Strong have this team in a position where it should repeat as conference champion, he should lead a competitively prepared team into the ACC.
Gorgui Dieng is still getting his feet underneath him in the professional ranks.
Minnesota didn't draft Gorgui Deng because of his offense, still it feels like his footwork and overall game has regressed since he helped lead Louisville to the national title. That said, he looked a little better on Tuesday, shooting 3-of-4 for six points and five rebounds with only three fouls in 13 minutes (that may be below his Summer League pace). His defense has been okay but he showed a midrange and made some plays in college that have not been seen in Vegas.

"I think I'm getting adjusted," to the NBA style game as opposed to college. "My first two games I was kind of lost, there were too many plays (to remember) and I was just thinking too much. Yesterday the coach sort of looked at me and said, 'just play.' I think I'm adjusting, a started running again. But it's very different than the college game...

"I just need to get used to it, it's a very different game. That's why pros are pros."
There will be a petition to rename the Mall of America after him by Thanksgiving.
And finally, I'm on the radio AGAIN tonight from 6-8 on ESPN 680. Listen live or anytime on ESPNLouisville.com if you like sports and people talking about sports.