10. The Boise State Picture
A tremendous shot from Louisville's opening-round victor over Boise State in 2008 (Preston's freshman year) that was utilized in game threads as recently as last March.
9. The Cheerleader Quote
Everyone was eager to forgive U of L cheerleader Jordan Alcazar following his faux pas at the end of last Sunday's big win over Pittsburgh...except Preston.
(Comment best read in Preston voice)
"Honestly, I'm still mad about that because that could have cost us the game," Knowles said. "I have to say no comment."
State your position, then say no comment. Preston for Mayor.
8. The Preston Obamicon
A fresh take on change.
7. The only known cure for Krag1N1 is Preston!
When it became brutally apparent that the Steve Kragthorpe era was not going to go as planned, there was only one remedy for relief.
6. Lil' Buckets
The first puppy of Card Chronicle.
via: HellintheHall.com
Goodbye Lil' Buckets
Though I never knew you at all
You had the grace to hold yourself
While those around you crawled
They crawled out of the woodwork
And they whispered into your brain
They set you on the shoulder
And they made you change your name
5. Preston Knowles rescues the economy
The Wall Street Journal thought it was possible when Louisville rolled into the NCAA Tournament as the No. 1 overall seed in 2009.

The stock market has gone to hell. Congress remains a mess. Even the new U2 album disappoints.

Into this wretched winter steps the University of Louisville men's basketball team. The top seed in the NCAA Tournament is perhaps one of the only groups left in this country that moves with purpose, teamwork and poise under pressure.

...

Most sportswriters regard Louisville's splendid small forward, Terrence Williams, as the team's general. Yet its true leader is my favorite player, an undersized, lightly-recruited guard named Preston Knowles.

Mr. Knowles averages a mere 6.3 points per game. But he attacks opposing guards with ferocity, his elbows and knees pumping up and down the court like an overactive fifth grader's. But that's not Mr. Knowles' true value. It comes from the way he inspires his teammates. They're forced to match his defensive energy or risk looking like slackers.

At least once a game, Mr. Knowles kicks off a defensive crescendo, as all five Louisville players create deflections, steals and blocks that lead to a burst of dunks and three-pointers.

It's at these moments where the beauty of the game reveals itself, with individual flow feeding team momentum. It's what animates basketball. It's what should, and doesn't, animate our public life in this time of crisis.

The metaphor isn't lost on President Obama. He says he draws management inspiration from the basketball court. Perhaps that's why I have this strange vision of our lethargic-sounding Treasury Secretary, Timothy Geithner, jolted to action after watching the Cardinals march through the NCAA Tournament. These days the world needs less John Maynard Keynes and a lot more Preston Knowles.
4. The Oklahoma Dunk
Let's see it again.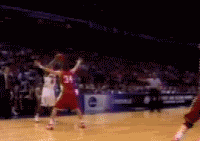 3. The Preston Dance
The GIF has made an appearance in just about every game thread this year (thanks, Leigh), and Preston himself acknowledged "The Preston Dance" on Facebook earlier this year. It all started with this video:
2. The Marquette Game
On Jan. 15, 2011 Louisville trailed Marquette by 18 points with 5:44 play. Knowles then hit four unbelievable three-pointers in rapid succession to fuel a furious 24-5 rally which ended with PK finding an open Kyle Kuric for the game-winning lay-up.
The postgame locker room interview then produced one of the best Preston moments of all-time.
Did you think about shooting?
1. Preston!
"As long as we win, I couldn't care less; my average can go down to four points and zero rebounds. As long as we win, I don't care."
This quote itself isn't No. 1, but it's a pretty accurate summation of what he's stood for four years, and why his first name is so often accompanied by an exclamation point.
Preston Knowles is what Louisville basketball is supposed to be about.