If you're going to force me to watch my favorite team blow a 17-point lead at home against the No. 4 team in the country, I'd prefer it take less time than a viewing of Avatar.
A frustrating night on a number of levels, capped by Ms. CC getting flipped off in the parking lot by an old woman. She was a Hoosier though, so all you can do is write it off to being shocked and overwhelmed by the number of people around her utilizing common sense and skill while behind the wheel. 
 I suppose this one's on me. After four years of taking shots at his game and him coming back with nothing but flops against U of L, Scottie Reynolds said enough was enough. I fully expect "ScottieSaysPantsON" to sign up for this site in about two hours. 
What can you say? Thirty-six points, 9-of-10 from the floor, 5-of-5 from three and he scored his team's final 16 points. It was his night. 
 Interesting stat: Reynolds has scored at least 30 points five times in his career, and all five of those games have been on the road. Maybe the fact that the crowd was tremendous ultimately did us in.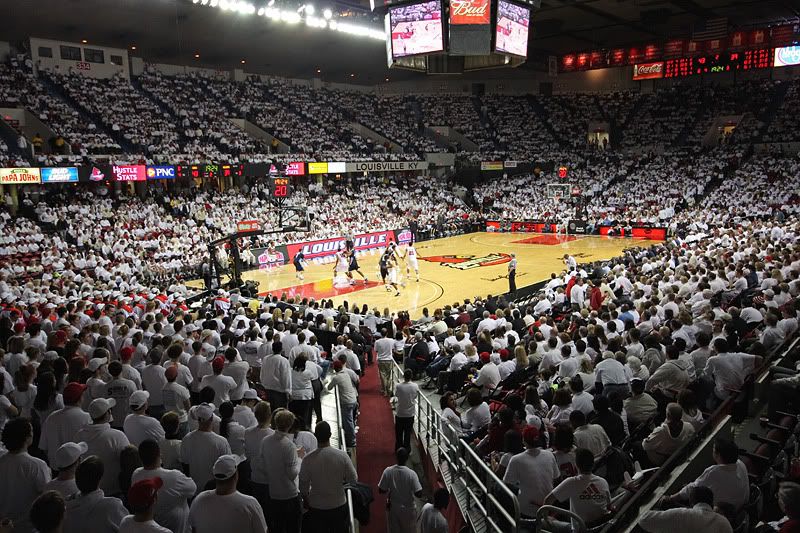 It takes a lot to make a Louisville game that important in that type of environment nearly unbearable to watch, but credit(?) the officials for making it happen. 
The stripes were undeniably awful, but I guess at least they were undeniably awful on both ends. The referees completely dictated the pace of the game (there was none) and kept momentum from shifting from one side to the other on multiple occasions.
After Jay Wright's almost unfathomable outburst, I was extremely interested to see how the officials would react. When Rock Buckles was called for breathing on his man three seconds after play resumed, you knew there was no way the game was ending before 9:15. I really don't think this was a calculated move by Wright, but it certainly altered the game dramatically and greatly benefitted his team.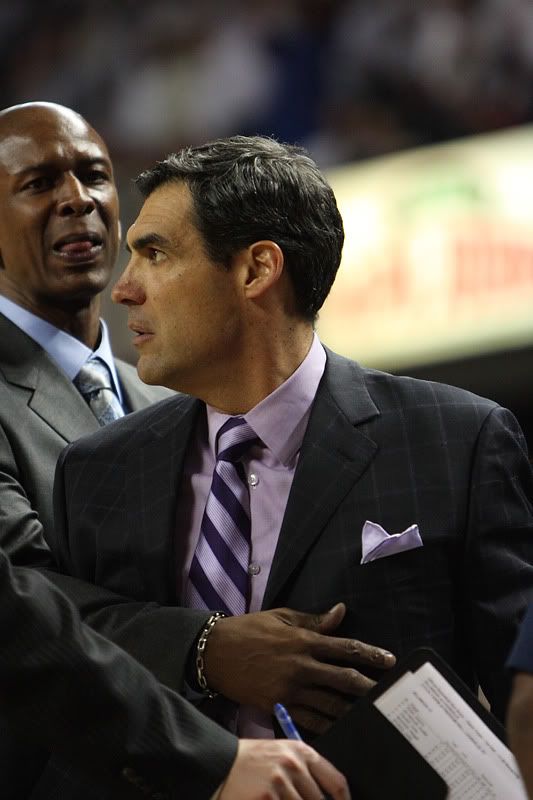 The biggest call of the game, at least to your humble narrator, was Siva's fifth foul. If the refs swallow their whistle on what appeared to be a clean steal, then the Cards have numbers the other way and potentially cut the lead to three. Instead, Reynolds knocks down a pair of freebies to push the lead to seven, Siva - who had been playing phenomenally - is sent to the bench for the remainder of the game, and Louisville is denied what would have been a monumental momentum shift. 
As tough as it was for us, imagine if you were an Oklahoma or Oklahoma State fan who had spent his or her entire day looking forward to that 9 p.m. tip on ESPN.
 Before we get into the ins and outs of who played well and who didn't, it should first be noted that everyone's effort was phenomenal. The kids fed off the crowd (which was also phenomenal) and tried as hard as they possibly could to snatch a signature win over the fourth-ranked team in the country. It's all we can ask. 
 That was not Big East Jerry, that was not Senior Edgar and that was not Preston (Preston!). I don't care how good an opponents' guards are, there's no excuse for those three guys throwing the ball away 14 times. Without that trio playing to their ability and taking care of the rock, we're a bottom half Big East team. 
 Preston going underneath that screen and allowing Reynolds to get off that enormous three from the top of the key was unconscionable. I'm still not entirely sure it happened. It was the first really glaring defensive mistake I can recall him making at a key point in a game since he arrived on campus. 
 Twenty-one claps for Samardo, who played with tremendous heart and gave easily his most complete performance of the season.
People keep talking about how we needed to feed the post more late in the game, and I'd agree if 'Nova had been allowing the entry pass in any way, shape or form. With us hitting one out of every 33 attempts from beyond the arc, Wright decided he wasn't going to let Louisville win the game in the paint. So even though Samardo was being guarded by Taylor King for long stretches of time in the second half, there was always another Wildcat lurking in the near vicinity to ensure that No. 15 couldn't get a clean look or touch. U of L's only answer was to come up short on three-point attempt after three-point attempt in the final three minutes.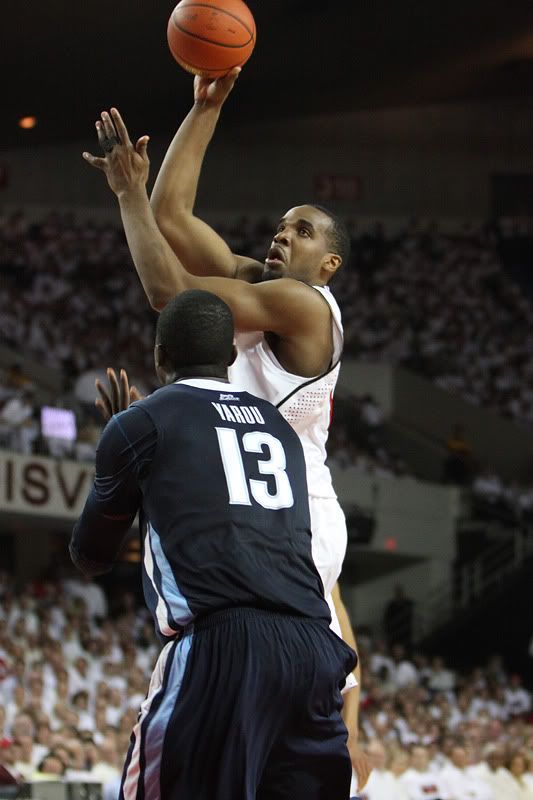 Sitting two rows behind me last night was Vic Anderson, and directly behind me was Ellis Myles.
Ellis had a lot to say during the game, most notably, "we haven't had a real rebounder since me," and "I love Tom Crean." 
The second one cuts deep. 
 Ellis totally went over my back during one of the shirt tosses. I didn't say anything, but he knew he was wrong. 
 It's easy to say now that Swop shouldn't have taken the potential game-tying three, but if he makes that shot we're all pantsless. Jared obviously had the green light from Pitino to take advantage of the space 'Nova was affording him, but his shot simply wasn't there. 
Jerry was wide open that entire possession and I'm still stunned nobody found him. 
 Jay Wright deserves some serious praise for whatever he did at the break. That period in the first half where the Wildcats couldn't even get the ball to midcourt was unbelievable. I mean this is one of the the best teams in the country, their strength is their guard play, and for about three minutes they appeared completely incapable of moving the basketball 30 feet towards their goal. 
Whatever he did worked...and let's be honest, he looked damn good watching it happen. 
 Also looking damn good on the sidelines: Chris Smith and George Goode. The race for the best dressed player in street clothes competition has never been so fierce. They're the Ovechkin/Crosby of inactive college basketball players. 
 Jeff Goodman's got some nerve. Two months ago I won a contest he held on Twitter and he asked for my address so he could send me a prize to be named later.
Been checkin' the mail every day, Jeff. Gettin' some good stuff. Some nice cards from relatives, few bank statements, couple of movies from Netflix and, of course, jack shit from you. And yet you still feel like you can come to my city and cover my team without any sort of repercussion.
Not up in here....NOT UP IN HERE.
You want to remedy this? I want a spot on press row in Indy at the Final Four. And I want to be the participant in whatever halftime contest takes place. And I want you to write a column on me...and Remote Cardinal.
Do this or be mocked on an obscure, team-specific college sports blog for at least three months. Your call. 
 So Peyton looks healthier. The kid was not at all intimidated by the big stage or by the pressure of Villanova's talented, veteran guards. His play would have been most to credit had things gone differently and Louisville come back to win in the game's final minutes. 
 What stings the most about this loss is that the hole this team has dug itself is even deeper than the one its three predecessors made for themselves. Charlotte and Western Carolina at home cut a little bit deeper than Purdue and Dayton at neutral sites. Louisville needs quality wins, and though playing in the Big East ensures that you'll have more than a couple of shots at top 25 teams, you can't afford to lose a home game you led by 17 against a team as good as Villanova if you're in the position the Cards are. 
I think the loss also takes a lot of the air out of the confidence this team was still carrying with it from last season. Even if it was a different group that won those titles, you could sort of sense the "the title still goes through us" mentality this team had, and I worry that this loss will change that. 
We're all about to find out how tough these guys are.