A couple of notes before we get started:
--No members of the Louisville athletic department made the field, since being a member of the Louisville athletic department automatically makes you cooler than anyone who isn't (besides Michael Cera).
--I thought briefly about lumping all ESPNU announcers whose names I couldn't remember into one entry, but ultimately decided that this would violate the single-entity theme of the tournament.
So now, onto your first matchup...
1) LARRY TAYLOR - Punt Returner, Connecticut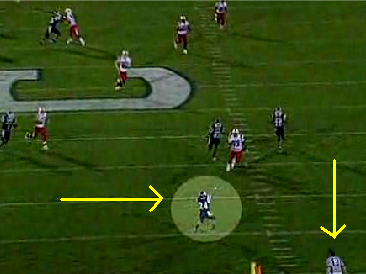 Rap Sheet:
--Blatantly called for a fair catch before returning the ball 70-yards for a touchdown when the officials didn't blow the play dead.
--Play very well may have cost Louisville the game, and ultimately a bowl bid.
--Had the nerve to claim that he had planned the act beforehand, and had made the official aware of his intentions.
--Attempted to repeat the maneuver multiple times in subsequent games, getting away with it twice against Cincinnati.
Redeeming Qualities:
--Plays for the relatively harmless and respectable Connecticut football program.
VS.
8) CATRAIVA GIVENS - Guard, Jackson State
Rap Sheet:
--Charged into David Padgett and broke his right kneecap in the second game of the season, forcing the Cardinal center to miss five weeks of action.
--Without Padgett, Louisville dropped games to BYU, Dayton and Purdue.
--Winning two or three of those games could have improved U of L's seed, or at least kept them from having to play North Carolina in Charlotte, which would have drastically increased their chances of advancing to the Final Four.
Redeeming Qualities:
--Didn't actually mean to hurt Padgett.
--Went 0-for-10 from the field and scored zero points in the 31-point loss to the Cards.

So now it's all up to you. Who was less cool in 2007-2008, Larry Taylor or Catraiva Givens?
The poll will close at 5 p.m.