We're down to the Final Four Samuel "Screech" Powers-wannabes in our tournament to determine the least cool person of the 2007-2008 Louisville sports season. Each semifinalist has already done plenty to prove that he doesn't have the goods, but just one will earn the right to boast that he's less cool than annoying drunk guy who constantly feels the need to reel off everything he's consumed like a grocery list (what are you lookin' for here pal? high-five? standing ovation? some form of proportional compensation? quickly stumble somewhere where I'm not).
We're going to do the first semifinal (obviously) today, the second tomorrow, and then our super-lame championship spectacular will be taking place on Wednesday.
Plan your parties/sick days accordingly.
Today's tilt features top-seeded Larry Taylor, who proved that Jackson State's Catraiva Givens is 98% cooler than him in round one, taking on North Carolina's Tyler Hansbrough, who edged out Jeremy Hazell by a single vote in the lone competetive quarterfinal match.
One goes home, one goes to the 'chip. Let's get it on!

1) LARRY TAYLOR - Punt Returner, Connecticut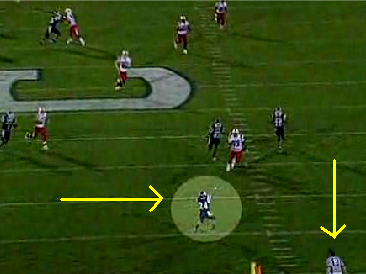 Rap Sheet:
--Blatantly called for a fair catch before returning the ball 70-yards for a touchdown when the officials didn't blow the play dead.
--Made the following statement immediately after the game: "That wasn't no fair catch, that was a fair play out there. The referee didn't call anything, he said it was a fair play. I felt I didn't fair catch it anyway."
--Play very well may have cost Louisville the game, and ultimately a bowl bid.
--Had the nerve to claim that he had planned the act beforehand, and had made the official aware of his intentions.
--Attempted to repeat the maneuver multiple times in subsequent games, getting away with it twice against Cincinnati.
Redeeming Qualities:
--Plays for the relatively harmless and respectable Connecticut football program.
VS.
4) TYLER HANSBROUGH - Forward, North Carolina
Rap Sheet:
--Scored 28 points including several key outside jumpers late in the game to almost single-handedly guide North Carolina past Louisville in the Elite Eight.
--Unofficially committed 72 fouls that went uncalled.
--His monster follow-up dunk was pretty embarrassing and enormously deflating.
--Nickname is "Psycho T."
--Annoying North Carolina fans love him.
Redeeming Qualities:
--Only uncool thing he really did was play amazingly well against us in a big game.
--Would likely be considered highly cool if he played for us.


It's all on your breathtakingly attractive shoulders, people.
The polls will close at Midnight.


UPDATE: Larry Taylor rolls into the finals by way of a decisive 215-48 victory.