I know Marques Maybin is already Mike's action hero, and how he's carried himself after his debilitating accident is so inspiring. I've decided to post something cool for Mike, and I hope you guys enjoy this as well.

While collecting my stuff to move into a new apartment, I found this gem hiding in the back of a closet (addressed to my brother, as I seem to have lost mine...but I stole his, because DUH THIS THING IS FANTASTIC).

Does anybody else remember these posters?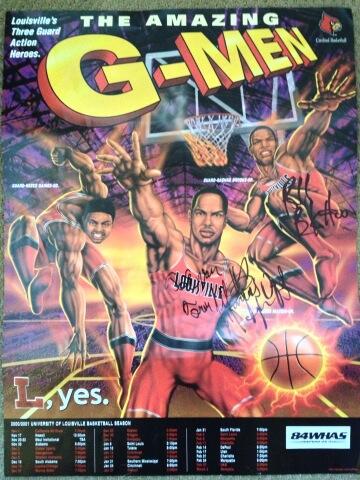 I remember meeting Marques at Coach Crum's radio show the night they were handing these out, and (even though I was only 8 or 9) being struck by how nice he was (especially compared to Rashad...I mean, really? RH BK? You can't make more effort than that? I kid, I kid).

But seriously, after that night Marques became my favorite player ever to play for UofL. Yes, he surpassed THE BJ Flynn. Plus, it helped that this poster called the guards the G-Men and my nickname was G-Man.

I remember wondering how Louisville basketball could continue after Marques left. I practiced writing out his signature for years after I received this, and I tried to copy his game in my driveway (although I definitely was not blessed with the athleticism he had when he played).

My original goal of posting this was to share a cool old poster as the dead period finally winds down, but I feel compelled to add this now.

Marques was an action hero to me on the court in his time here, but how he's lived his life since the accident has shown that he truly is a super hero of a person.

Louisville still loves you, Marques, even if it takes digging up a sweet old poster to remind some of us that we do.

Louisville First, Cards Forever...