Leading up to Midnight Madness in October, ESPN Insider's "Countdown to Madness" series is previewing the top five seeds in each of the four regions in Joe Lunardi's preseason 2013 NCAA bracket. To read about the key stats and freshman impact for each team as the previews are published, plus get expert predictions from Jay Bilas, Fran Fraschilla and Lunardi, click here. This is the entry for the Louisville Cardinals, No. 1 in the Midwest (Indianapolis).
The key: A stifling defense
Stat to know: 0.764
Louisville enters this season facing the pressure of great expectations. The Cardinals are generating plenty of buzz as a preseason top-5 team with the potential to go all the way, and doing so would make Rick Pitino just the fifth active coach with multiple national championships to his name. Of course, to achieve that milestone, Louisville will again be relying on strong defensive play.

Louisville Cardinals
Last season: 30-10 (10-8 Big East, won Big East tourney)
Finished: Final Four (lost to Kentucky)
2012-13 projected starting lineup
G: Peyton Siva (Sr.)
G: Russ Smith (Jr.)
F: Wayne Blackshear (So.)
F: Chane Behanan (So.)
C: Gorgui Dieng (Jr.)
According to Synergy Sports Technology, Louisville held opponents to just 0.764 points per play (PPP) last season -- among the very best in the nation. In fact, only Syracuse and Kentucky were better. The Cardinals also limited the opposition to 38.4 percent shooting and a mere 61.0 points per game. That enabled Louisville to win even on nights when its offense wasn't necessarily clicking. Such was the case in the Sweet 16 matchup with No. 1 seed Michigan State, when the Cardinals hit only 38.2 percent of their shots but held the Spartans to 28.6 percent shooting en route to a 13-point win.
There's no real reason to expect a drop-off in 2012-13, either. Peyton Siva is the catalyst for this club's success, and he returns as the unquestioned leader and floor general. But he's not alone. This roster is loaded with emerging weapons like Wayne Blackshear and Chane Behanan, as well as newcomers with upside like George Mason transfer Luke Hancock. And not only does this team have depth, it has experience from last season's run to the Final Four.
"It's a good thing," assistant coach Kevin Keatts said. "Even the younger guys like Blackshear got a chance to step up and play on a bigger stage. I think that's something that can certainly be helpful for them this year."
Given the expectations Louisville has for this season, every little edge matters. And we haven't even discussed sophomore Kevin Ware, who Pitino singled out as the most improved player on his roster this summer. No team is immune to injury -- Louisville knows that all too well -- but the Cardinals have the depth to overcome most issues and a wealth of talented players that they can plug in when needed. -- Luke Lapinski
The flaw: Turnovers, uncertain offense
Stat to know: 14.1
The Cardinals don't have many weaknesses, but they could make life a lot easier for themselves if they turned the ball over less. Because they have an impressive defense to fall back on, it's not as if they need to exhibit the amazing ball control of a team like Wisconsin to win games. If anything, they just need to be average in this area. But the Cardinals were last in the Big East with 14.1 turnovers per contest a season ago.
Louisville still managed to rattle off 30 wins despite those shaky numbers, so the more specific question for 2012-13 may simply be: Do the Cardinals have a reliable go-to guy in crunch time?
"On any given night, I'd say we can get our scoring from somebody different," Keatts said. "We don't have just one guy where you say, going into a game, 'OK, you've got to have a 20-point night.' We've got a number of guys who can contribute."
None of them, however, are named Kyle Kuric or Chris Smith. The Nos. 1 and 3 scorers, respectively, on the roster a season ago, Kuric and Smith both exhausted their eligibility, taking 22.3 points per game with them and leaving Russ Smith as the top returning point producer. While the junior can fill the net, he's not necessarily the most consistent offensive threat. He put up just 0.773 PPP last season, landing him in the 39th percentile and earning him a rating of "average" in that category. He may be able to emerge as the guy, but he remains relatively unproven in the clutch for now.
And while the ball will run through Siva's hands on any key possession, he's not necessarily a guaranteed bucket either. If neither of them can take the reins in this department, Pitino's squad could be leaning on a sophomore like Behanan or Blackshear with the game on the line. -- Luke Lapinski
The freshmen
Louisville is poised to make a run for a national championship this season, and there are two main reasons: The Cardinals' recruiting efforts have been strong in recent years, and Pitino does a great job developing individual talent and fitting it within the framework of the team. Louisville may have the best and deepest frontcourt in the country this season with Gorgui Dieng and Behanan starting up front, along with rotation players such as Zach Price and Stephan Van Treese. Now the Cardinals add even more size with freshmen Montrezl Harrell and Mangok Mathiang.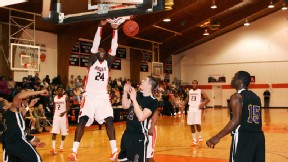 Courtesy of William WiebkingMontrezl Harrell adds to Louisville's frontcourt depth.
Harrell, a 6-foot-8 forward, is naturally athletic, strong and approaches the game with a high motor. His arms are long and his feet are fast, which bodes well when the Cardinals press and apply pressure defense or play zone. His explosiveness and effort make him a productive rebounder outside of his space. His scoring opportunities will mostly come in transition, as he runs and finishes well, or from second-chance points.
When the game slows down, he will rely on some simple back-to-the-basket moves such as a drop step, a jump hook and a reverse pivot face-up from the mid-post. Harrell will surprise some, as he does possesses a jumper from the foul line and the short corner that will be effective. He'll make immediate contributions as a rotation player, but maybe his greatest value to this loaded Louisville team is that he'll challenge Behanan every day in practice.
Mathiang is a very interesting prospect, as he's still painfully thin at 6-10, 205 pounds, but he's active, mobile and has great upside. He can score instinctively at the rim with space when he receives a dish or a lob for a layup. But with his back to the basket, the entry pass must lead him to the rim because he has no reliable moves yet. He is more comfortable blocking shots and going after missed shots and securing rebounds with his length more than his strength.
As his skills continue to develop so will his production, but the potential and upside are present. Mathiang is a luxury to have for this season and could help give the Cardinals more depth in the frontcourt, but he'd also benefit from a redshirt year. With time and added strength, he could be another Dieng. -- Paul Biancardi
The expectation
In the middle of last season, few (if any) believed that the Cardinals would be playing in the Final Four. With injuries and some sideways shooting, Louisville looked nothing like a Final Four team. But, every season, Pitino has his team playing its best basketball at the end of the season, and he guided his team to eight straight wins to take the Big East tournament crown and a Final Four berth with a 30-10 record. He did it by turning up the defensive heat in postseason play, a strategy that might not have been workable for an entire season with his roster numbers.
This season, Pitino will have better depth, and with his ability to bring teams along and the benefit of a new NCAA rule allowing him to work with his team during the summer, Louisville should be much better much earlier in the season.
The Cards will again do it with great defense. Pitino will be able to press more this season because of the team's depth, but his half-court matchup zone (that morphs into man-to-man without recognizable pattern) is the primary reason Louisville is in position to win so many games. With a more mature Siva at the point, the dynamic Smith at guard, a healthy Blackshear, the powerful Behanan up front and an emerging star in Dieng blocking shots in the middle, Louisville will be formidable.
Add in transfer Hancock and freshman Harrell, and Pitino has quality depth to work with. Give Pitino a team that's deep on healthy talent and some extra practice time, and he will deliver a truly outstanding team. I see the Cardinals winning around 34 games and making the Final Four. This team can win it all. -- Jay Bilas