PG: Peyton Siva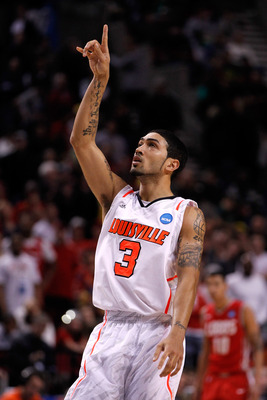 SG: Russ Smith
SF: Wayne Blackshear
PF: Chane Behanan
C: Gorgui Dieng
Not only do I think Louisville has the best starting lineup, but I believe they have the best team for the 2012-13 season. Fresh off of a Final Four run, Louisville loses a small amount of production but returns key pieces from that successful run.
Peyton Siva and Gorgui Dieng transformed from top players on their team to top players in their conference with glorious runs in the 2012 Big East Tournament and 2012 NCAA Tournament.
Siva is as clutch as they come late in the game, while Gorgui Dieng has a massive shot-blocking wingspan of 7'5''.
Chane Behanan started to fill out late during his freshman season, giving promise for what is come during his much anticipated sophomore season. Behanan is tough as nails and cleans up the glass nicely.
Wayne Blackshear, Louisville's top recruit in 2011, missed the majority of last season to injury. At full strength, he is an explosive dunker and always plays above the rim.