1. The Cards played about as well as they can play in the first half and Georgetown (from what I've seen of them) played about as well as they could play in the second. I suppose their best was simply better on this night. 
2. Louisville has led at the half in four of its six Big East losses. Whether it's his own philosophy or a product of the players he's working with, Rick Pitino is not and has not been a proponent of the major in-game adjustment. Because of this, we're at a real disadvantage when we come out of the break with a lead and our opponent throws a completely different look out on the floor and we continue (usually with little success) to try and do what worked in the first 20 minutes. 
Jay Wright, Jamie Dixon, Bob Huggins and John Thompson III all went into the locker room trailing U of L and ultimately walked away with a victory. Whether it was a defensive shift, a focus on getting the ball to a particular area or a new strategy of attacking Louisville's press, adjustments were made and the Cardinals were handed crushing defeats. 
I say this with 100% honesty: In each of these last three games, I would rather be down six than up six at the break. 
3. It's remarkable just how much blame Edgar Sosa takes when things go wrong. If the complaints were targeted at his defensive play that would be one thing (he was awful on D), but every time the young man misses a shot - regardless of how open or justified it was - folks react as if he just gave them all the middle finger.
After taking a charge, Samardo Samuels (who had absolutely no right to complain about anyone else's poor performance) got right in Sosa's face and cussed him out for all those in relatively close proximity to hear. Apparently Samardo was upset that he hadn't gotten the ball on the possession before when Sosa, following a kickout after a missed Rock Buckles jumper, had attempted a wide-open three-pointer instead of feeding a double-teamed Samuels. Not only is it in poor taste to call a teammate out in the middle of a game, but it's ridiculous when it's that unjustified and when the one doing the calling out has put forth minimal effort on the defensive end for the duration of the game. 
Edgar finished with 24 points, eight assists and one turnover. His offensive performance was not the reason Louisville lost to Georgetown.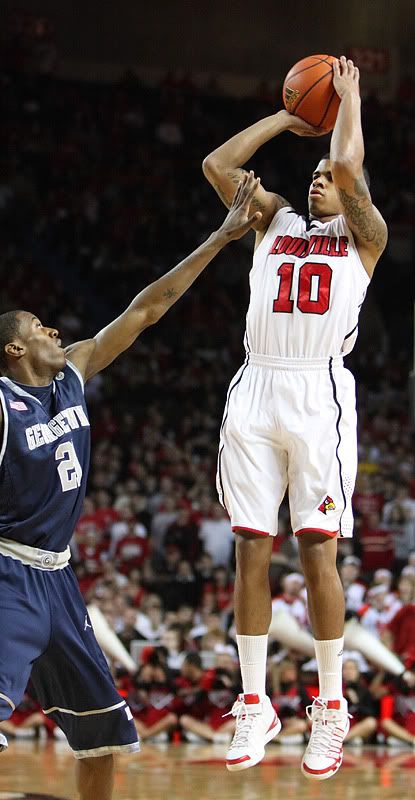 4. Somewhere right now, Austin Freeman is setting up for a three-point attempt and the Louisville player guarding him thinks he's in the lane. 
5. The Reggie Delk three that would have cut the lead to four but instead clanked off the side of the backboard may have been the biggest buzzkill in the history of Freedom Hall. Any basket at that point would have sent the crowd into a frenzy, but a third straight three might have induced a court-storming. I hadn't spoken a word since about the ten minute mark of the second half, but said "oh my God" when I saw how open Delk was and that the pass was heading his way. Nineteen thousand people held their breath, Ms. CC grabbed my hand and nearly broke it, and then...the ball drilled the side of the glass and landed in Greg Monroe's hands. 
Delk went to the ground and a lot of people called for a foul, but he wasn't touched. In the wake of the non-call in the West Virginia game and the big call in the Notre Dame game, I actually think he's trying way too hard to draw fouls on threes from the corner right now. Every time a defender helplessly runs at him, Reggie throws his legs out and goes to the floor. Focus on knocking down the good look, my man. Also, your transition defense is awesome. 
6. The whole if Mike Marra plays Kyle Kuric can't and vice versa thing completely baffles me. Why in the world would you not throw Marra out there and at least give him a shot to make something happen when your team has scored two points in ten minutes?
7. Our half court offense sucks. It does. It's let Sosa create off the pick-and-roll or pass the ball to the wing and try to dump it into Samardo every time. We can't beat anyone who takes care of the ball (eliminating fast break opportunities and garbage points off the press) and plays tough man-to-man. 
8. Preston is going to have to earn his exclamation point back. 
9. How many second-half daggers is it going to take for our guys to go over top of screens when they're guarding good outside shooters? You're better than that, Kyle.
10. I love T-Will as much as the next guy, but he's just a bit out of his league on the All-Freedom Hall team. If you're going to take a Pitino-era player, I think you definitely have to look at Reece Gaines and you probably have to look at Francisco Garcia before you look at Williams. 
11. Watching Greg Monroe in person is an experience. A guy that tall simply shouldn't be able to do the things he does. We had no real answer for him, but I thought Buckles did a better job out of the man than Jennings or Samuels did.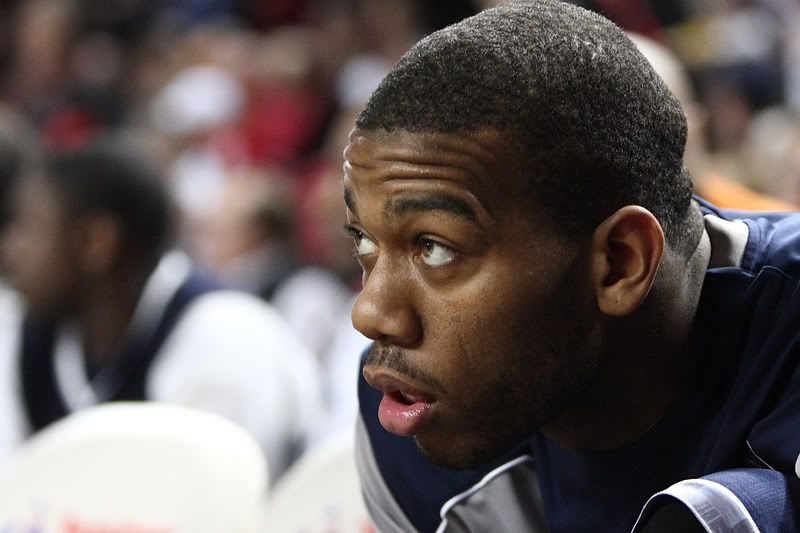 12. I think people are underestimating just how much our backs are against the wall right now. U of L is not a good road team and in order to assure themselves of a spot in the dance they're going to have to go to Milwaukee and knock off a Marquette team that appears to be their equal, and then complete the season sweep of either a Connecticut team that hasn't lost at the Gampel Pavilion or a Syracuse team that hasn't lost on the road. 
Every possession is crucial for the next couple of weeks. 
13. Keep smiling, Chuck.