This team can be good. I'm telling you. 
If you pulled aside someone particularly mathletic and showed him or her Louisville's offensive numbers and efficiency ratings and then revealed to him or her the Cards' won/loss record, their mind would be blown. Like, theater audiences at twist-end movies in the mid-90s blown. 
U of L has been unquestionably unlucky so far this season, but these things have a way of evening out (sometimes). Is there a team in the country who you are 100% positive the Cards couldn't beat? In terms of pure talent, Kentucky is heads and shoulders above every other squad in college basketball (don't worry, that pain you feel is just your soul), and Louisville was right there with them for 38 minutes on their home floor. 
i know UConn is in sort of a death spiral right now, but that's still a team boasting at least three guys who are likely to be selected in the NBA Draft at some point, and Louisville led them by double-digits for nearly the entirety of a 40-minute contest. What's more, this was probably the second-worst game the Cards have played over the last three weeks. 
Hang in there. These guys might be able to make the next couple of months pretty fun. 
 Before we get into the odds and ends of last night's contest, I'd like to first praise this team (which consists of 13 players who have never heard of this blog) for the effort they give. 
These guys make good plays and we cheer, they make poor decisions and we throw our hands up, but they rarely, if ever, take a possession off or do anything else that might lead us to question their commitment to bringing home a victory. Think about how many fans across the country wish they could say that about the team they support. 
I remember knowing, not thinking, during the end of the Crum era that there were players wearing the Louisville jersey who cared far less about the game being played than I did. It sucked and it made me feel pathetic, and I thank this year's team - and all Pitino-era teams, really - for sparing me of that indignity. 
 It's ridiculous how much better we are when Jerry Smith is contributing more than awesome towel antics. You could tell the offensive production got to his head a little bit, however, as he was playing zero defense at the beginning of the second half. Pitino quickly yanked him, let him know the deal and then threw him right back onto the court and all was well. 
Jerry's been doubling up on the towels over the last couple of weeks, but I have a request to make. And I'm not gonna lie to you, this is gonna get kinda weird...three towels. 
I wanna see it before the year's over.
 My only criticism of Jerry: stop yelling at Peyton Siva. It's getting to the point where I hate seeing the two of them on the floor together because I'm worried that Siva is going to end up being too afraid to do anything other than pass the ball to Jerry.
 This season has definitely proved that Jared Swopshire is extremely strong in mind. There was a collective groan from the crowd when he entered the game for the first time, a loud ovation when he was taken back out seconds later after not being able to bring down a rebound, and then an 80s horror-movie scream when he acted like he was going to pull the trigger on an outside jumper the first time he touched the ball on offense. 
If that's me, I'm in the fetal position at midcourt and I'm sobbing.
Swop, conversely, responded by leading the team in rebounding with nine, and eventually scoring the biggest basket of the game - the one that ended a 7-0 Husky run and put us up 70-58 - midway through the second half.
Swop has been pretty consistently grilled by the fan base (and you can definitely lump me into that group) this season, but the fact is that in a game U of L had to have and against the Big East team most synonymous with tough inside play, he scored a pair of big buckets in the paint and hauled down more rebounds than Terrence Jennings and Samardo Samuels combined. 
You know he's aware of the criticism, and the fact that he still has the marbles to play his game is an extremely bright sign for the future. 
 OK, if you're reading, Swop, you can go ahead and stop here.
During his postgame interview, Rick Pitino questioned the intelligence of the fans who don't understand why Jared Swopshire is getting the amount of minutes he does, and who don't see the things that he brings to the table that Terrence Jennings does not. Pitino tossed out Swop's versatility and outside shots as the rationale behind his level of PT, but mostly focused on the fact that the young man has the ability to be very good over the course of his final two seasons at Louisville. 
That's fine, Rick, and I don't necessarily disagree with you about Swop's future, but the fact is that we're right in the middle of this season, and right now this team is better with Terrence Jennings on the floor than it is with Swop. 
Swopshire is certainly a better passer than Jennings and I don't doubt that he has a better grasp of what he's supposed to do on both ends of the floor, but he's still vastly undersized, he struggles to make good decisions when pressured, and he'd only made 5 of his last 29 field goal attempts heading into last night's game. Additionally, his decision to take a jumper from just inside the three-point line early in a possession late in the game against West Virginia was the worst choice in a three-minute span that was chock-full of them from the Cards.
This team needs Swop on the floor to win games, but it doesn't need him on the floor more than Jennings. 
 I think this is going to be the season that finally drives Referee Shirt Guy out onto the floor.
 Samardo's officially really good. Not sure how it happened and I don't care. 
The worst thing about last night's game was that Samuels' three first-half fouls (two of which were bogus) forced Pitino into shifting back to rotating his big men in for one another for the end of the first half and the entirety of the second. There's no doubt that having Jennnings on the floor is creating space for Samuels, and when the new Samardo has space, the new Samardo is putting the ball in the basket.
Token
 Facts overheard at the game last night: Jared Swopshire is left-handed, Reggie Delk is a sophomore, Samardo Samuels is from Haiti. 
 I thought the crowd was tremendous in spurts during the first half until a steady stream of whistles effectively stifled the rhythm of the game.
 Though the majority of last night's questionable whistles occurred in the first half, it was the non-goaltending call in the second which took the prize for Big East ref play of the game. Pretty sure Pitino hasn't jumped that high in a couple decades. 
I understand that Bilas and Raftery were pretty critical of the officiating, which makes me wish I'd have Tivoed the game. 
Higgins was horrendous, but that goes without saying whenever you see his fat ass strutting around the sidelines before a game, especially a nationally televised game. You're a star, Timmy. 
 I will never question any shot Preston takes off of a clean pass, but when he's on the break or has taken a dribble after bobbling a pass that was too high or too low, he needs to go ahead and think twice about pulling the trigger. 
It was pretty obvious that PK had been told by Pitino that he needed to get back to being a defensive stopper, because he was bringing the old school Preston intensity when UConn had the ball last night. He was never able to get into a rhythm because Jerry was playing so well, but aside from a couple of errant passes and one really poor shot, it was a solid performance from the man who has elicited hundreds upon hundreds of exclamation points from the CC faithful.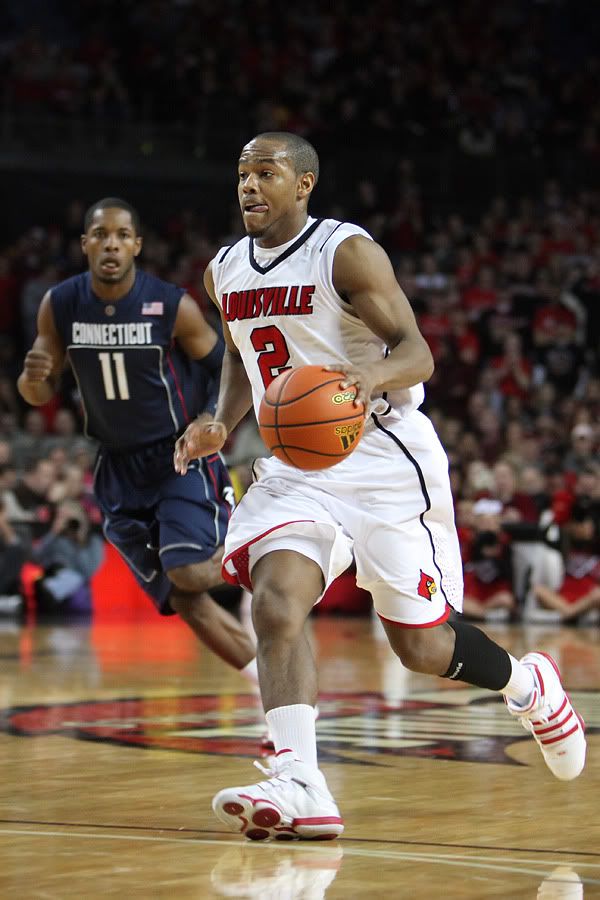 The Van Treese love was pretty awesome. 
 Speaking of which, the whole Samuels/Jennings playing together thing has made the absence of George Goode far more noticeable than anyone would have thought a month ago. 
Still, hell of a dresser. 
 If Kuric would have crammed at the end I would have been harder than Rihanna.
 Solid game from Edgar Sosa, but his inexplicable decision to not pass on the break when all three Husky defenders converged on him was mind-blowing. It probably wouldn't even warrant a mention if someone else had done it, but because of the last four years everyone I talked to after the game had something to say about it.
Aside from that and the four turnovers, he hit some very clutch shots and dished out eight assists. Not a bad performance by any stretch of the imagination, I think it's just that his play during the first half of the season raised everyone's expectations. 
 Did you know Jerry Smith is the third-leading scorer on this team?
 Can you name Connecticut's interim coach?
 Reggie Delk is rapidly establishing himself as a sophomore Preston-esque fan favorite. Not only has he found his outside stroke, but the amount of hustle plays he's made in transition over the last couple of weeks has been astounding. 
Delk has got to keep playing like this for U of L to dance.
 Late in the game when the refs conferred to decide who a ball went out-of-bounds off of, about seven people in the crowd around me yelled, "check the monitor."
Prescient humor: it's happening here.
 Ms. CC and I were sitting and waiting patiently (one of us was) in traffic last night when out-of-nowhere comes Terrence Jennings in his street clothes walking in between cars. It was kind of surreal. He looked nice.
 Rock Buckles has seen his playing time slashed considerably, a trend which figures to continue for the foreseeable future, and yet he's every bit as into the game from the bench as Jerry Smith or anyone else is. 
This freshman class has a tremendous attitude, a trait which will likely be even more advantageous a couple of years from now. 
 Actual Marques Maybin in the crowd, pixelated Charlie Strong on the game thread....should've bet the house.
 I want a Louisville tennis team sweater vest for Valentine's Day.
 Heading into last night's game, this was my scenario for taking 7-of-10.
1. Split with Connecticut
I understand that the Huskies are reeling without Calhoun, but we simply don't match up well with them. I don't think there's any in between for Connecticut from here on out; they're either going to continue this tailspin or they're going to get really hot. Don't be surprised if it's the latter and we find ourselves up against it in Storrs.
2. Split with Syracuse
Obviously, not the easiest of tasks, but the Orange, unlike Connecticut, are actually a good match-up (in terms of style) for us...they're just a lot better than we are right now. We need a marquee victory between now and Selection Sunday, and even a home victory over the 'Cuse would do the trick. 
3. Handle business against Rutgers, Depaul and St. John's
We've played some ugly games against the Johnnies at the Garden in recent years, but if we lose that game or the Rutgers game (we don't lose to Depaul...ever) then we don't deserve an at-large.
4. Beat Notre Dame
This Notre Dame team, like so many in recent years, is very tough at home and very soft on the road. We can't afford to let these guys come into the Hall and steal one they're going to need every bit as much as we are.
5. Win at Marquette
Arguably the toughest task on this list. The Golden Eagles might be the only team in the country with worse luck than us, dropping seven games by five points or less. The fact that this one will be played in Milwaukee certainly doesn't help, unless it comes down to the last possession and we have the ball, in which case you can go ahead and take it to the bank. 
6. Lose to Georgetown
Obviously I don't want this to happen, but it's acceptable if everything above takes place. The Hoyas are good and John Thompson III teams (with last year being the exception) are not easy to take down in late February or March. 
 Winning is like, so much better than losing. I wish we played again before Saturday.